Lift Safety
There's no one way to make a car lift or truck lift safer for the operator. Manufacturers of high-quality automotive lifting products are always looking for better, more secure lifting methods. As a result, many excellent automotive lift safety features are now offered to the consumer. Here are just a few examples of the great technological strides that reputable ALI / ETL certification partners have developed to keep you and your employees safe.

Two-post Car Lift Automatic Arm Restraints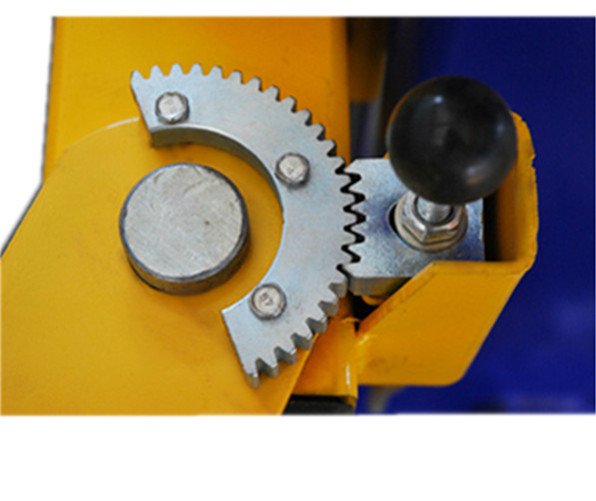 Because the various car lifting solution designs can be extremely different from each other, it makes sense that some safety features are specific to only one kind of car lift. Two-post car lifts employ swing arm assemblies that allow the operator to change the arm configuration to suit a wide range of vehicles. It is important that swing arm lifts employ restraint devices to prevent arms from shifting or dislodging after a car or truck is already mounted and raised. Higher-quality two-post car lifts will feature this safety critical element; typically a gear mechanism that automatically secures the arms into place whenever the lift begins to rise. The automatic gear arm restraints will only disengage again when the lift is in a safe, lowered state. Because this process is automatic, the operator does not need to worry about forgetting to secure the arms.

Four-Post Car Lift Anti-Sway Blocks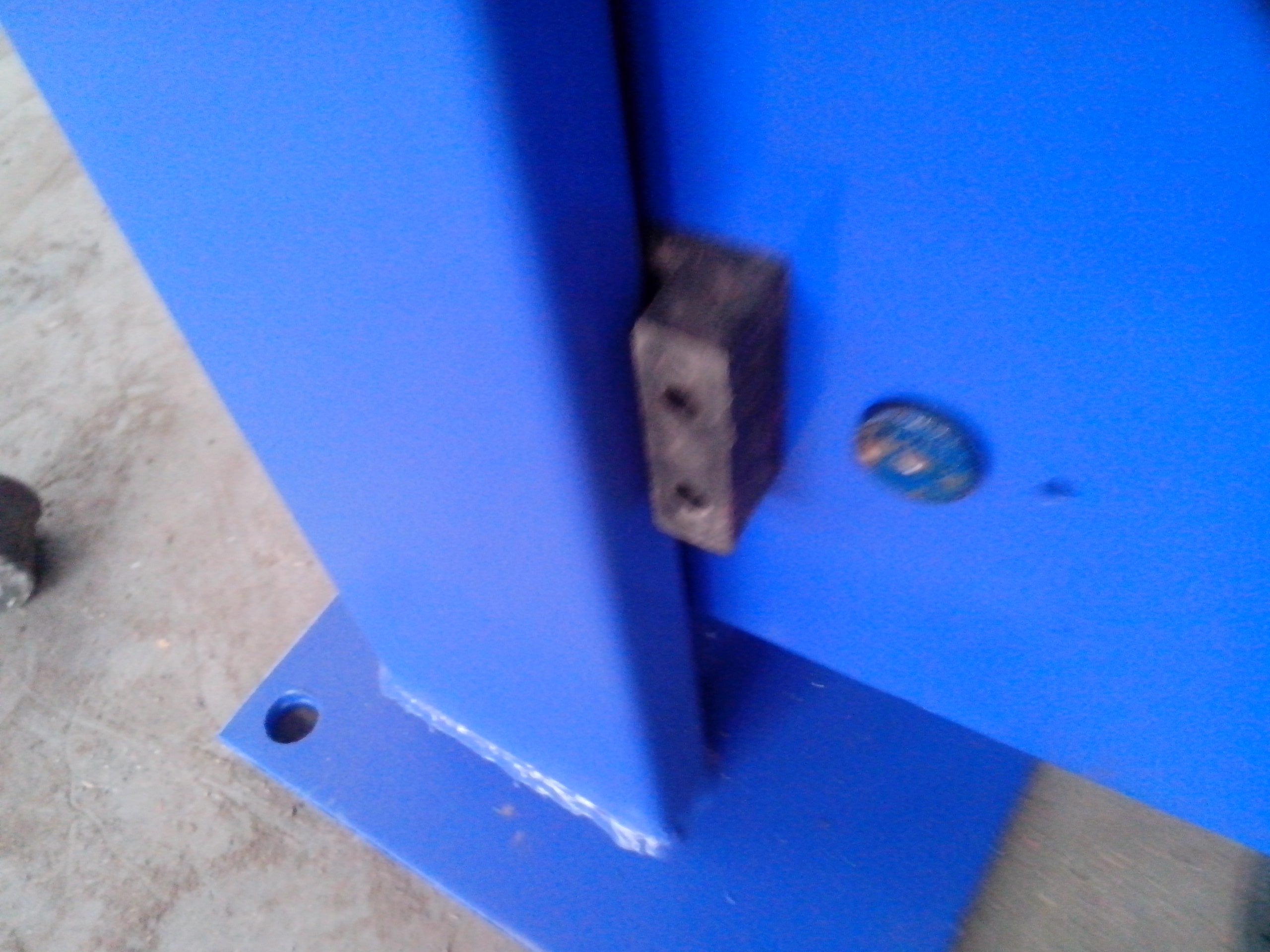 Four-post car lifts are principally suspension lifts that rely on their columns to contain the lifting structure via cables or chains, while simultaneously bearing the load equally between them. Since the four-post car lift is not a rigid structure, it was once common for lifts to sway slightly during raising or lowering operations. Anti-sway blocks are one method of minimizing sway and maintaining proper spacing. This is especially important to ensure that safety locks are always engaged and that each post or column is holding 1/4th of the overall weight.

Four-Post Car Lift Runway Ramps and Chocks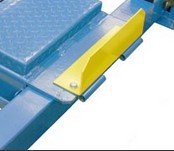 Be sure your auto lift is equipped with manual wheel chocks as the primary means to restrain vehicles from inadvertently rolling off either end of the runways. Automatic stops on the approach end and fixed stops up front should be provided on runway lifts as a secondary means to restraint.

Hydraulic Flow Restrictor
Hydraulic car lifts that are designed with safety in mind use specialized hydraulic flow restrictors or velocity fuses integrated into the hydraulic cylinders or hydraulic circuit to control sudden, rapid decent in the event of a hydraulic component failure. These essential safety devices can dramatically reduce or stop downward travel in a free-fall situation due to a hydraulic system failure other than the cylinders themselves. When exploring lifting solutions, always make sure the car lift design features these crucial components for consistently smooth operation and no surprises.
Automatic Safety Locks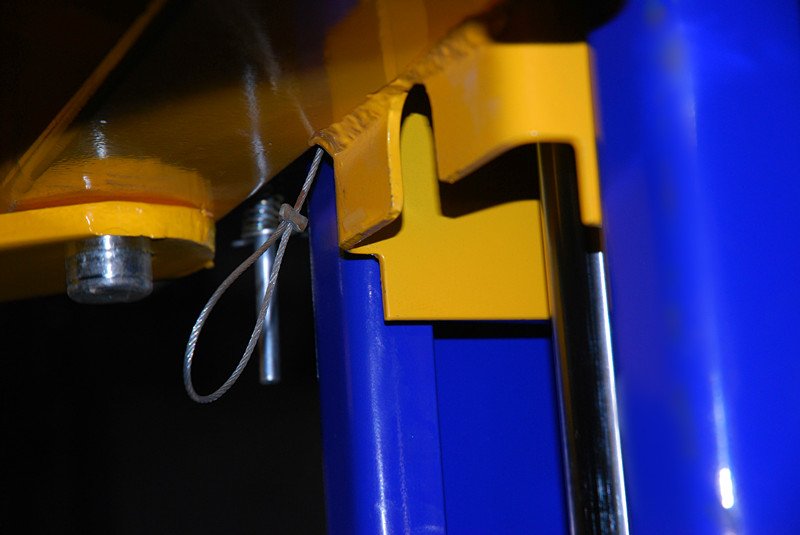 These powerful load-holding devices automatically engage and lock the lift structure as the car lift raises, preventing sudden free fall in the unlikely event of a suspension component failure. Typically, after the lift is raised to the required working height, operators are instructed to lower the lift until it is resting safely on the locks to minimize wear on suspension components. Once the locks are engaged, the car lift has to be raised slightly in order to release the safety locks. The better car lifts on the market often have locks spaced no more than five inches apart to better protect operators or bystanders. Load-holding devices should always require an independent and positive action for release, and they should always engage and reset automatically each time the lift is raised.
Slack Cable or Slack Chain Device Safety Device
As a redundant safety precaution, all professional-grade car lifts that employ either cable or chain suspension methods should incorporate a slack cable or chain device. These slack cables act as an automatic brake for the supported structure if a suspension component breaks or slackens.
Safe Systems and Procedures
When searching for a car lift, always ensure the manufacturer has a written quality assurance system of policies and procedures that are implemented and managed by quality control personnel. Safety policies and procedures should embrace safety specific subjects like organization, functions, duties and authority; policy and procedure publication, change control and record keeping; engineering drawing and specification publication, change control and record keeping; manufacturing process conformance determination, change control and record keeping; raw material and purchased part conformance determination and record keeping; component and end item conformance testing and record keeping; calibration and record keeping and traceability to the National Institute of Standards and Technology (NIST), or other national standards, for all gauges, measuring devices, tools and instruments that affect the quality of the final product; and, control and disposition of nonconforming material.
Specialized Lifting Pads for Different Types of Vehicles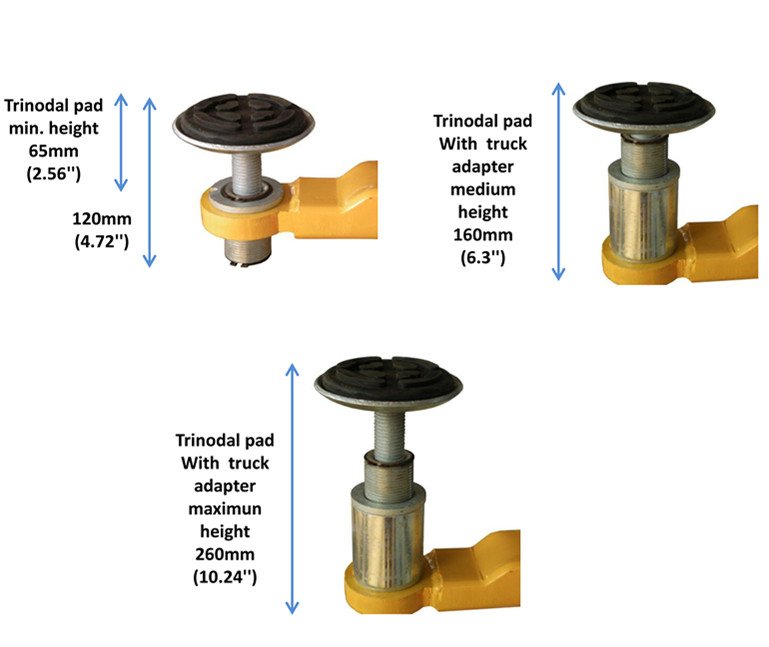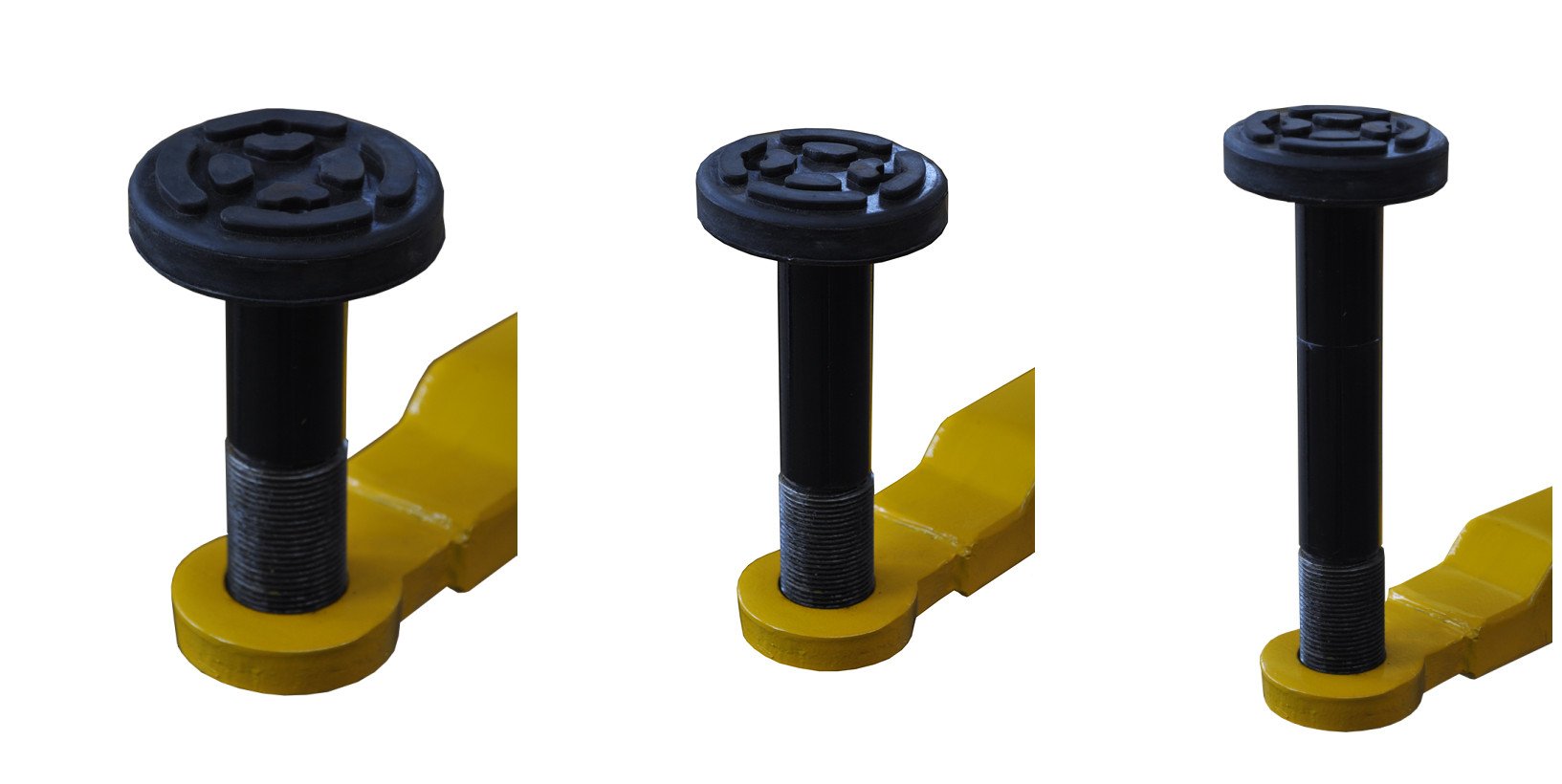 Make sure you always have the right tool for every lifting job. Vans and trucks require different adapters than cars and motorcycles. The dealer or manufacturer should have a variety of options and accessories to help customize your automotive lift to fit your specific auto lifting needs. If they don't, take it as a sign that their car lifting products might lack the proper support.
Proper Use and Safety Instructions
Always be sure that your car lift is supplied with operation, inspection, service and maintenance instructions that include specifications of the lift, lift rated load capacity, significant lift and bay dimensions, power requirements (compressed air and/or electrical), foundation and floor structural requirements. Car lift installation instructions should be clear with graphics illustrating full step-by-step assembly, exploded drawings with part numbers and descriptions, component packing list, site requirements, mounting and anchoring instructions, recommended clearance around and above lift, plan and elevation details of auto lift layout, final pre-check procedure for assembled lift, operational test & inspection and maintenance instructions.
Labeling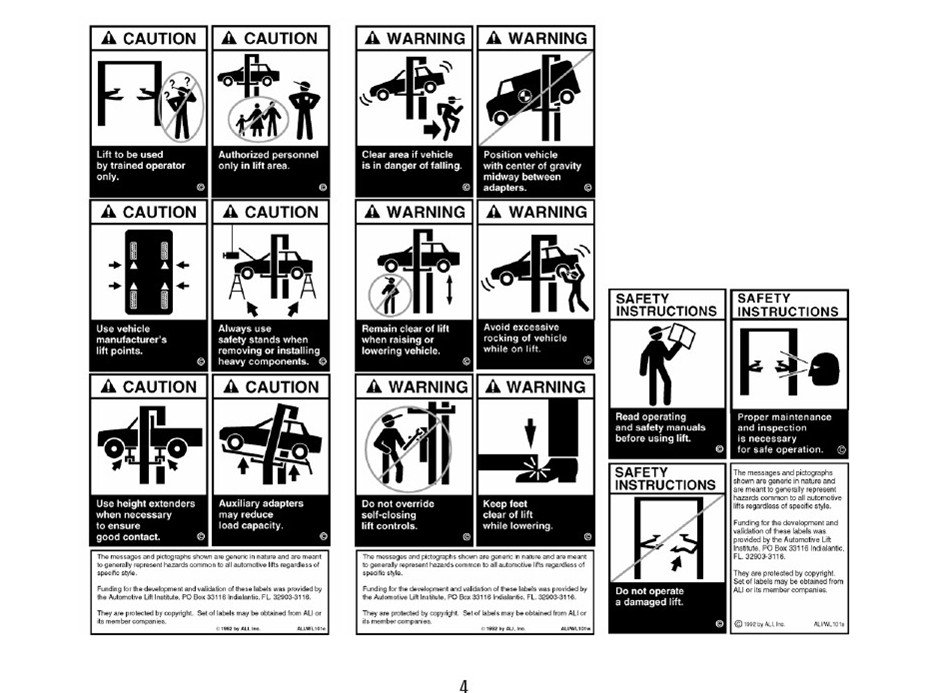 To raise safety awareness for all operators and bystanders, auto lifts should always include pertinent warning labels, as well as raising and lowering instructions. These labels shall be located at the point of hazard so that they will be plainly visible by the operator when he or she is in position to raise or lower the car lift's load.